Testosterone Phenylpropionate 100mg/ml 10ml vial

Testosterone Phenylpropionate injection for intramuscular injection, contains Testosterone Phenylpropionate.
The chemical name for Testosterone phenylpropionate is C28H36O3.
Testosterone phenylpropionate is a slow-acting ester, with a release time of 1-3 weeks.
Testosterone phenylpropionate is also one of the components of Sustanon
The structural formula is represented below: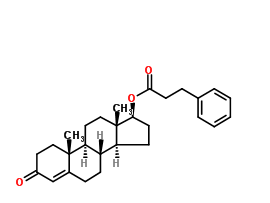 Each mL of the 100 mg/mL solution contains:
Testosterone phenylpropionate 60 mg
Benzyl benzoate..................................0.25 mL
Cottonseed oil...................................510 mg
Benzyl alcohol (as preservative).................1%
Storage
· It is recommended to keep Testosterone phenylpropionate at the room temperature below 30 degrees C.
· Keep it out of the reach of children.
· Avoid the direct sunlight, heat and moisture.
· Safely discard the expired product by following the exact indications of a physician or pharmacist.