Testosterone Cypionate 250mg/ml 10ml vial

Testosterone Cypionate injection for intramuscular injection, contains Testosterone Cypionate which is the oil-soluble 17 (beta)- cyclopentylpropionate ester of the androgenic hormone testosterone.
The chemical name for Testosterone Cypionate is androst-4-en-3-one,17-(3-cyclopentyl-1-oxopropoxy)-, (17β)-.
Its molecular formula is C27H40O3, and the molecular weight 412.61.
The structural formula is represented below: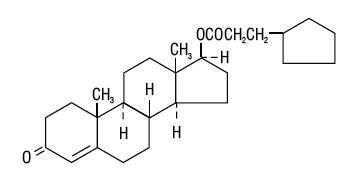 Testosterone Cypionate injection, USP is available in 250 mg/mL Testosterone Cypionate, USP.
Each mL of the 250 mg/mL solution contains:
Testosterone Cypionate................................................250 mg
Benzyl benzoate...........................................................0.25 mL
Cottonseed oil............................................................510 mg
Benzyl alcohol (as preservative)..........................................1%
Testosterone esters are less polar than free testosterone. Testosterone esters in oil injected intramuscularly are absorbed slowly from the lipid phase; thus, Testosterone Cypionate can be given at intervals of two to four weeks.
Testosterone in plasma is 98 percent bound to a specific testosterone-estradiol binding globulin, and about 2 percent is free. Generally, the amount of this sex-hormone binding globulin in the plasma will determine the distribution of testosterone between free and bound forms, and the free testosterone concentration will determine its half-life.
About 90 percent of a dose of testosterone is excreted in the urine as glucuronic and sulfuric acid conjugates of testosterone and its metabolites; about 6 percent of a dose is excreted in the feces, mostly in the unconjugated form. Inactivation of testosterone occurs primarily in the liver. Testosterone is metabolized to various 17-keto steroids through two different pathways.
The half-life of Testosterone Cypionate when injected intramuscularly is approximately eight days.
Storage · It is recommended to keep Testosterone Cypionate at the room temperature below 30 degrees C.
· Keep it out of the reach of children.
· Avoid the direct sunlight, heat and moisture.
· Safely discard the expired product by following the exact indications of a physician or pharmacist.